Photo : Camille Pinet, Le Magazine.info
(
Listen to the sound, listen to the words and read
Collapse
)
Voilà, c'était mes petites pensées sur cette forme alternative de lecture.
Vous, vous en pensez quoi ?
vous avez déjà testé ?
allis
Alors voilà, depuis quelques temps je me suis mise au livre audio et j'ai eu envie d'en parler...
donc pour s'y remettre une petite critique sur un film de
Ryan Merriman
.
Tout pour mon fils (Dangerous Child) de Graeme Campbell avec Ryan Merriman, Delta Burke, Marc Donato et Vyto Ruginis.
Une mère divorcée est suspectée d'avoir maltraité son fils alors qu'en réalité elle est elle-même battu verbalement et physiquement par son fils adolescent.
(
Comment peut-on vivre dans la peur de son propre fils ?
Collapse
)
allis
Oulà, ça fait un moment que je n'ai rien posté par ici...
Go to
the official Home Of The Giants Website
and go tell that you want to see the movie !
It has trouble finding a distribution deal, but there's a way that you can help getting it into theaters. Help the movie to get out on theatre now !
Go to
The official Home Of The Giants Website
and fill in the form. Even if you don't live in the States you can still let them know that you want to see the movie. And even if you're not interested in seeing the movie, you can just fill in the form and help a great independent movie get into theaters.
The official Home Of The Giants Website
, is running a campaign to find out where the fans are, in which States of USA. There is a good chance that if enough people within that state indicate that they want to see the film, it may be released there theatrically.
Every effort is being made to bring the film to the big screen, so this will definitely help !
Trailers and Clip
allis
The Baker
directed by Gareth Lewis with Damian Lewis, Kate Ashfield, Nikolaj Coster-Waldau.
The Baker is a killer comedy about how you cannot escape your past, especially when you're an ex-hitman... Milo (Damian Lewis) is a professional hit man living on the edge. When failing to fulfill a contract for the first time, Milo escapes the city to avoid the wrath of his employers. Hiding out in a remote rural village, the locals mistake him for the new baker. He adopts this role as his new cover and sets about baking bread and cakes for the village. When sparks fly with the local vet Rhiannon (Kate Ashfield) he decides to start a new life as the village baker, but his past is about to catch up with him. In a small village where everyone knows your deepest darkest secrets and no one is as innocent as they seem Milo discovers that you cannot always have your cake and eat it.
synopsis damianlewisweb.com
Trailer
(
One girl, one gun, one hitman. A killer comedy
Collapse
)
Teddy and I

Je viens de créer mon blogpost entièrement consacré à l'évolution de mos projets de réalisation, depuis la conception jusqu'à la publication de mes courts-métrage (en espérant vraiment pouvoir en arriver là, même si pour le moment je n'ai toujours pas d'acteurs :( ).

Arrivé demain du premier post sur la genèse de mon premier projet ;)

N'hésitez pas à aller y faire un tour et pourquoi pas poster des commentaires.

Teddy and I
profil
vous pourrez trouver toutes mes critiques à venir, mes livres en cours et les films que je compte voir prochainement.
Just a note to let you know that you can now find in the community
profile
all my critics to come, the books I'm reading and the movies I'm going to wacth.
Into the wild
de Sean Penn avec Emile Hirsch, Marcia Gay Harden, William Hurt inspiré du livre de Jon Krakauer,
Into the wild
.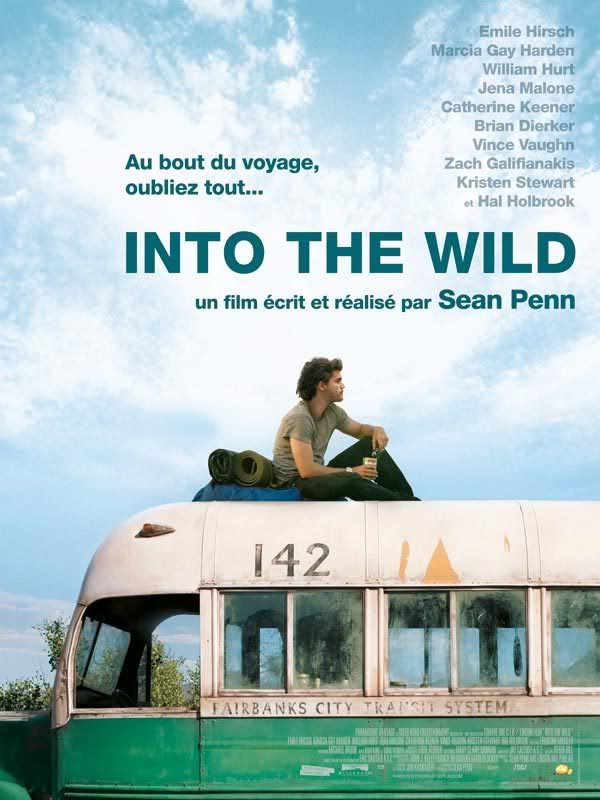 Tout juste diplômé de l'université, Christopher McCandless, 22 ans, est promis à un brillant avenir. Pourtant, tournant le dos à l'existence confortable et sans surprise qui l'attend, le jeune homme décide de prendre la route en laissant tout derrière lui.
Des champs de blé du Dakota aux flots tumultueux du Colorado, en passant par les communautés hippies de Californie, Christopher va rencontrer des personnages hauts en couleur. Chacun, à sa manière, va façonner sa vision de la vie et des autres.
Au bout de son voyage, Christopher atteindra son but ultime en s'aventurant seul dans les étendues sauvages de l'Alaska pour vivre en totale communion avec la nature.
Résumé commeaucinema.com
Bande d'annonce
(
Hapiness is only real when shared
Collapse
)
Avant de commencer la critique je voudrais vous préciser que désormais dans le
Pour certains titres j'ai fait un mini commentaire entre parenthèses et pour les titres que vous devez lire avant de mourir ou qui ont tout simplement eu une importance particulière pour moi je les ai mis en gras.
(
Let's get lost tonight
Collapse
)
allis
Sous la coupe lj vous trouverez toutes mes lectures depuis que je sais lire seule à nos jours et les planifiées.
The Jane Austen Book Club
directed by Robin Swicord with Maria Bello, Emily Blunt, Jimmy Smits, Amy Brenneman based upon the novel
The Jane Austen Book Club
by Karen Joy Fowler.
Based on Joy Fowler's library hit, the film follows six Californians who found The Jane Austen Book Club. The idea is, of course, to share their ideas on the British author's work : but the members' lives are as full as marriage trouble, affairs and love problems in general as any of Austen's novels...
synopsis allocine.co.uk
Trailer
(
You don't have to know the books to be in the club
Collapse
)
Happy New Year !!!!

May 2008 be full of happiness, love, success and good movies for you all !

allis

------------------------

Bonne année !!!!

Que 2008 soit plein de réussite, de joie, de santé, d'amour et de bon films rien que pour vous toutes et tous !

allis

It's the 24th here in France (well it's 1:10am) and I want to wish you all a

MERRY CHRISTMAS !!!

I hope you'll all have a great day and that you'll have a lot of presents under your Christmas tree :D

allis

---------

JOYEUX NOËL !!!

Il est encore tôt mais c'est quand même le 24 et je sais pas quand je reviendrais sur internet alors je vous le souhaite à tous et à toutes maintenant !

J'espère que vous allez tous et toutes passer une excellente journée et que plein de cadeaux vous attendent sous le sapin :D

allis